Resolve to Trust
Your Experience & Passion
Your Practice Will Love You For It
"We trust words inscribed in stone. We trust pronouncements from

authorities. We trust conventional wisdom & proverbs & wise sayings

& rules of thumb. Why do we so rarely trust our own experience?"
Richard Holowka, Poet, Philosopher, Flaneur
The 3rd series of 90 Days to Practice Transformation is now open for enrollment. We begin LIVE January 30th!
Before I tell you about all the great reasons to sign up -- there are many -- and cite the testimonials of those who have already started seeing their practices add patients and revenue, I want to speak to you personally.
You are a practitioner. I am a marketing expert.
And as a practitioner you know that your ability to heal arises from your life-giving passion to help -- and the intense years of study you spent learning about the human body, the mind and the soul.
Mastering the skills you needed did not come easily, even if your passion was a constant flame guiding you to your destination.
If you reflect upon your experience, you'll realize that taking the next step in your life's work means building your practice into a sustainable business.
In the last analysis, you can only help others if you yourself are in a safe, stable and ideally comfortable place in your own personal and professional lives.
Re-Discover Your Passion :: Re-Passionate!
I began SuccessBootCampRX because I know practitioners, and I wholeheartedly endorse the principles of natural health.
And I know marketing -- in particular the kind of marketing that's needed in our current 24/7/365 information society.
To me, the best marketing techniques flow from the passion of the person who is healing patients.
That passion is the spark that can make your marketing message illuminating.
The message can be a beacon that guides patients to your door -- if you create that message properly.
It is not buzz words. It is not a bag of tricks. It's not bait and switch sleight of hand -- and it's not discounts and dollars off and endless special offers.
I launched 90 Days to Practice Transformation because I know that you, as a practitioner, live lives with jammed calendars.
LEARN MORE ABOUT EACH SESSION Click HERE!
Communicate Your Passion to Your Patients
You need a program short enough to accommodate your tight schedule and yet comprehensive enough to provide skills you can start using right away.
I am not kidding you: this is a rigorous program.
There was a reason I chose the phrase "boot camp.".
But I know you.
You guys rock!
You are not afraid of hard work.
Your commitment to study in pursuit of your degree proves that.
You wouldn't be the healing professionals you are today if you hadn't learned how to develop your passion into a powerful skill set to help and heal others.
That's where trusting your experience comes in.
You dedicated years of your life to understanding how to heal.
You know full well the learning isn't over. It never ends.
You wouldn't be the healer you are without your ability to internalize important skills and use
The same is true with marketing and branding your practice.
Discover What Successful Professionals Know About Branding
The NYTimes recently published an article about therapists and counselors and psychiatrists learning how to brand their practices.
My dear, dear friends, branding is everywhere.
The Times article stressed ways in which these professionals could communicate more effectively to their patients about how they can help.
Enroll in 90 Days to Practice Transformation, and you will learn how to re-discover the passion that led you to be a healer and find the right words to communicate your value to patients.
The 12 session webinar will show you how to
Build a brand that accurately and vividly represents your practice
Use Social Media as FREE Advertising
Make LinkedIn Yelp and other popular sites work for you
Use your web site effectively to create a sound first impression
Develop and stage successful events to build key relationships
Solicit referrals from your patients -- without pressure or stress
Develop strategic partnerships with other businesses
The NEW 90 Days to Practice Transformation delivers
-- A comprehensive schedule of calls expanded to 12 online sessions
PLUS…
Bonus options for beginner, intermediate, and advanced participants in social media. You'll find content tailored for you, no matter your level of familiarity or expertise.
Calls packed with more detailed information, more practical tools and more worksheets -- all based on feedback from practitioners just like you
Specific examples of success stories by practitioners from the previous 90 Days session
Extensive and expanded workbook materials for all skill levels
2 Live Calls to accommodate TIME ZONES (9:30 am and 12:30 pm PST) -- and all calls archived for later learning 24/7.
One-on-one up close and personal coaching sessions available on request
NEW! Affordable payment option available -- make 3 low payments over the next 3 months
CLICK HERE TO LEARN MORE ABOUT EACH SESSION...
FINALLY
A HAPPINESS GUARANTEE.
If you're not completely happy with the training, within the first 15 days, tell us. We'll refund your money back. ( not available on the Self-Study option)
Trust Your Experience About What Works
All I am asking is that you trust your experience.
When you set out to become a healer, you knew you needed training from someone who with more knowledge.
Now that you are proficient, and you are in the business of running a practice, doesn't it make sense to trust your experience and develop the business skills you need?
Let's Make it Happen!!
Our NEW Year YOUR Year LIVE Begins January 30th at two time slots.
9:30 am PST and 12:30 pm PST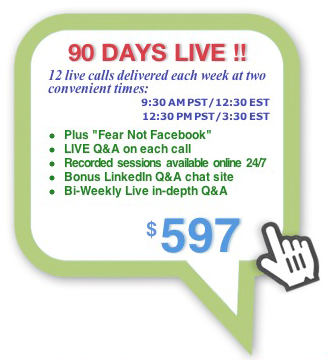 _mri = "7472_10_2"; mrtracking();